For a man who has limited time, there are five cities that are particularly good to focus on if you want the odds to be more in your favor. I've picked these five because the respective local culture is modern enough to "encourage" non-traditional sex, the obesity rates are low, a large share of women are average to good-looking (partly because they often are thin), male competition is low to moderate, and the populations are large (10 million or more), leading to a near-endless pool of females.
To visit so-called emerging markets comes with several downsides, such as poverty, higher crime rates (Latin America) and bad infrastructure, but since the main object is to meet young women, we will ignore the negative.
1. Manila (Philippines)
The capital of the Philippines offers a lot of young and petite females that you can meet online, at bars and clubs, and occasionally through day game and fleeting social circles.
If you are a fairly good-looking guy (preferably of European or Northeast Asian origin) with normal conversation abilities and level of confidence, you should have no problem finding a significant number of average to good-looking girls, although seldom prettier than 8. You will do well with just English. Generally you can talk about all kinds of things with these girls, but avoid contentious and complicated issues.
Make sure to pipeline a bit through dating apps and websites just before you go and create an abundance of opportunities. Look out for prostitutes and city gangs and be sure not to cause any trouble. Drugs should likewise be avoided. You may have heard about Rodrigo Duterte's tough drug policies, which involve killings of dealers, even users.
Population: 12 million
Apps: FilipinoCupid, Pinalove
2. Jakarta (Indonesia)
Although Jakarta is partly a Muslim city in an Islamic country, it is a rather liberal and secular such with many young girls who want a piece of the (white) flesh. Although some of the hijab-wearing women might be open for sex, look for those who don't wear them since it may save you some time and trouble. It is more likely that they are open for casual sex.
A combination of online game, night game, and a little bit of day game should do you good. Make sure to rent a place since only a few hotels allow guests to bring girls to their rooms.
Some nice clubs are Jenja, Immigrant, and Empirica. Be aware of hookers and semi-pros. Keep frame and don't pay. There are plenty of normal girls of about the same level of attractiveness as in the Philippines to choose from.
English will take you far most of the time, but try to learn some Indonesian before you go. That will help you connect with local females, even if it's just a couple of words and phrases here and there.
Population: 30 million
Apps: IndonesiaCupid
3. Bangkok (Thailand)
Bangkok is associated with crazy nightlife and lots of prostitutes. Another downside is the massive amount of tourists. Still there are plenty of normal girls in Bangkok who are eager to meet foreign men.
Use proper apps, especially ThaiCupid, and visit bars and clubs that lean towards a higher percentage of non-pros (i.e. normal girls). Like in other major Southeast Asian cities, you can expect to do well if you look average or better and have normal conversation skills. Still, the better your pictures and looks, and the more confidence and determined mindset, the more you will likely be successful.
Unless girls ask there is no reason to talk about complicated subjects or even your home country. Focus on Thailand, fun, and travel.
English will take you far most of the time, but try to learn some Thai before you go. That will help you connect with local females, even if it's just fifty common expressions.
Population: 15 million
Apps: ThaiCupid, ThaiFriendly
4. Rio De Janeiro (Brazil)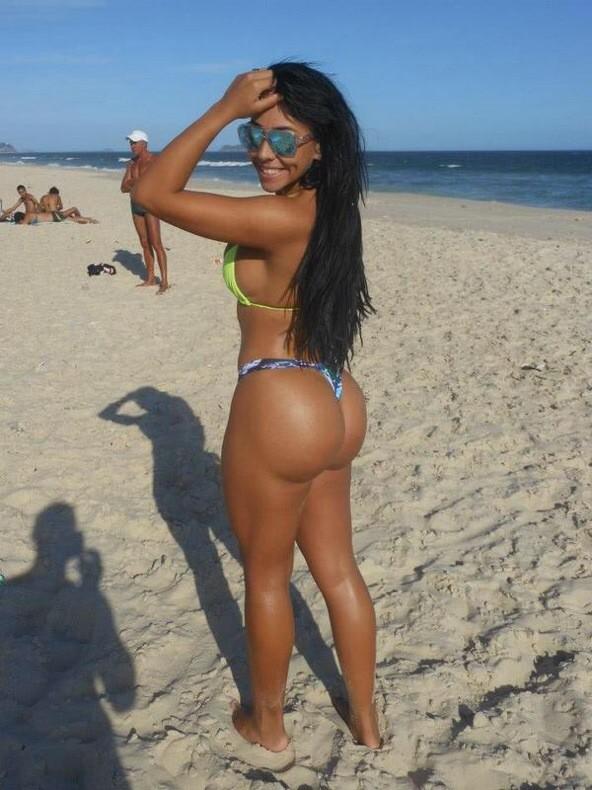 Rio De Janeiro is one of few cities in the world where girls approach guys, and as such often in a very direct fashion. Although it is quite easy to kiss some of these (mulatto) girls, often from lower classes and even favelas, it is a bit harder to get laid in comparison. Sometimes kissing is just kissing and nothing more. Still it is often fairly easy to score. Forget about Catholic virtues: many live for the moment, like today is their last on earth.
Like in Southeast Asia you should use a combination of different types of game, but online game and night game are often more than enough. However, you should be slightly more aggressive and confident compared to Southeast Asia. Show that you have balls, both literally and metaphorically speaking. Most girls are between 5-7, but some have better bodies and can reach 8 or 8.5 mark.
Research a bit online regarding appropriate bars and clubs, since that may differ from one year to another. Stay away from shady areas, take a cab rather than to risk anything, and don't flash jewelry and such.
English will not take you far most of the time, so try to learn some Portuguese before you go.
Population: 12 million
Apps: BrazilCupid
5. Bogota (Colombia)
If you look into a dating website or app like ColombianCupid, realize that there are girls which are really attractive in Colombia, and since the bodies are sometimes so hot they can peak at 8 or even 9. These girls are spread out in different cities like Medellin, Barranquilla, Cali and so on. It would be wise to check out multiple cities if you can, but if time is limited the capital Bogota is more than enough.
If you solely focus on getting laid you should do well with just online game, but for a variety of reasons you should check out the nightlife as well.
English will often not take you far. Thus try to learn some Spanish before you go. Since Spanish is valuable to learn in general, you may regard it is a small life project.
Population: 10 million
Apps: ColombianCupid
Conclusion
I have provided five examples of cities that are appropriate to visit if you want to meet girls, as well as the methods and tools that will enable you to maximize your results. Needless to say but you could also do a lot of other things while in the above five cities, such as to enjoy food and other aspects of the local cultures.
If you want to read more of William Adams' material, check out his website Syncretic Politics.
Read More: Where To Travel In East Asia To Experience Bountiful And Fleeting Pleasures From Women